If you enjoy a good show at the theatre, Liverpool is a great place to do so. The city knows how to put on a show at its several theatres and performance spaces around it. From 100 year old theatres that have seen some of the biggest stars of stage, to local venues that bring the best home grown talent around – there are just too many places to explore Liverpool's lively theatre scene.
Read on and plan your theatrical trip to the city with this theatre guide to Liverpool's best show locations.
1. Liverpool Empire Theatre
Image Source: Visit Liverpool
Located on Lime Street, the Empire Theatre is Liverpool's biggest theatre and has a fascinating history behind it. It is one of the largest two-tier theatres in Britain and has seen some of the biggest productions in the theatre world take on its stage. From The Beatles to Julie Andrews, Laurel and Hardy, and Frank Sinatra, plenty of actors have walked on these famous boards, and more keep turning up, year after year. Head here and you might just catch some massive touring productions such as Les Miserables, War Horse and Blood Brothers etc.
2. Everyman Theatre
Image Source: Visit Liverpool
If you're on Hope Street, head over to Everyman Theatre and enjoy a bit of everything from contemporary theatre, dance, comedy and poetry nights throughout the year. Apart from touring productions, the theatre also supports homegrown talent and presents amazing shows every now and then. Visit here and enjoy the best of theatre in Liverpool. You can also indulge in wine and dining at the bar and bistro while you are here.
3. Playhouse Theatre
Source: Visit Liverpool
Opened in 1866, the Playhouse Theatre is also a part of Liverpool's rich theatre history. It started out as a music hall and then developed as a repertory theatre in 1911. Over the years, many stars have graced its stage in magnificent productions, with several others on their way this year. Make your plans to visit when you're here in Liverpool.
4. The Royal Court
Source: Wikimedia
To get the essence of a proper Liverpudlian theatre, one must head to the Royal Court where you can expect a lot of laughs. The productions at Royal Court generally have a strong Liverpool theme, so be ready to expect plenty of scouse humour and a good old sing-a-long. Shows like My Fairfield Lady and Lost Soul 2 are some of the most-loved productions that you can book your tickets to watch over here.
5. Unity Theatre
Source: Unity Theatre Liverpool

'

The Unity Theatre is one of the most accessible theatres in Liverpool and has been in its current home in Hope Place for around 30 years. It is renowned for championing local and underground theatre companies and encouraging up and coming talent. If you're looking to try a different form of theatre in Liverpool, this is the place to be.



6. The Epstein Theatre
Image Source: Headbox
The Epstein Theatre has been providing local entertainment since 1913 and was given its name in 2011, in memory of The Beatles Manager, Brian Epstein. This theatre still supports local and emerging talent, apart from welcoming the most well-known acts here. You can head to a lot of different shows in Epstein this year including Burlesque, ABBA Forever and other celebrities.
7. Liverpool Philharmonic Hall
Source: Visit Liverpool
The Liverpool Philharmonic Hall is an art-deco style Grade II listed building on Liverpool's Hope Street. In 1840, a group of music lovers founded The Royal Liverpool Philharmonic, making it one of the oldest concert societies with an award winning Philharmonic Orchestra. You can head here to enjoy some of the best musical performances across a range of genres.
8. Capstone Theatre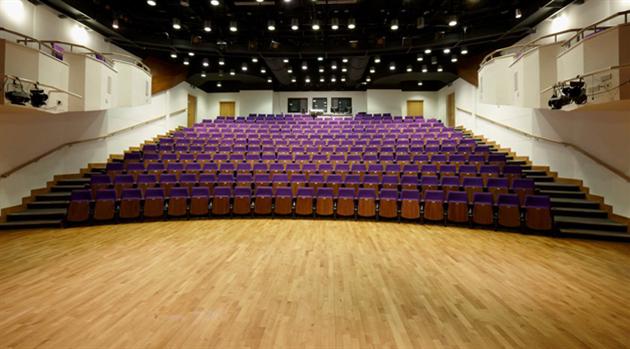 Image Source: What's on Live
The Capstone theatre opened its doors in 2010 and has worked with a range of leading local as well as international artists and musicians. From concerts to spoken word events, radio broadcasts, plays, dance performances and film screenings, you can find the best of everything here. This theatre is also a part of Liverpool Hope University and works with a lot of local organizations to showcase Liverpool culture.
9. M&S Bank Arena
Source: Liverpool One
What was once known as The Echo Arena, the M&S bank area is the biggest venue in the city for music, comedy and live shows. The venue has hosted over 1300 performances since it opened in 2008. The likes of European MTV awards, Sir Paul McCartney and BBC Sports Personality of the Year have been here. This year, there are some huge acts who will come to grace the stage including, Westlife, Russell Howard and Rod Stewart. Make sure you catch an event here when in Liverpool.
10. O2 Academy
Image Source: Academy Music Group
The O2 Academy is housed inside a 19th Century warehouse and has hosted some of the best gigs in the city. In the early days of the venue, bands such as Muse, Coldplay, and The Killers all graced the stage. Even today, it attracts top UK and International talent. Catch an event here when you're visiting Liverpool.
Every year, there are plenty of show stopping performances that hit the stages of Liverpool's best-loved theatres. If you're visiting Liverpool and love theatre, make your plans to visit one of these locations and team them up with dinner at some fantastic restaurants in the city. When you stay at FM Living, we'll help you with the latest events and happenings in the city so you don't miss out on them. You can enjoy the best of Liverpool and come home to our luxurious yet affordable serviced apartments in the heart of the city. Make your Liverpool plans today for a brilliant trip.